Justin Trudeau kisses his wife Sophie Grégoire-Trudeau as they arrive on stage in Montreal on 20 October after winning the general elections. Photograph: Nicholas Kamm/AFP/Getty Images
Just a few months ago, it seemed that Canada's Liberal party, and its leader,Justin Trudeau, were facing a bleak future.
The party was trailing third in opinion polls after backing unpopular new anti-terror legislation introduced by the governing Conservatives and it risked being outflanked on the left by the insurgent New Democratic party.
After a relentless campaign of Conservative attack adverts saying that he was "just not ready" for government, the leader was struggling to shake off the perception that he was a floppy-haired dauphin with no real political experience.
As a federal election loomed, it seemed that the son of one of Canada's most famous and influential prime ministers was set to lead the party which has long seen itself as Canada's "natural governing party" into political irrelevance.
This week, however, Trudeau led the Liberals to a stunning federal election victory, sweeping 184 of 338 seats in Canada's House of Commons and driving the Conservatives out of government after nearly a decade in power.
Finally, it seemed, this was dynastic politics you could believe in.
It was the apparent fulfillment of destiny for Trudeau – but one he seemed at times to approach warily.
His father, Pierre Trudeau, was Canada's most intellectual and flamboyant politician, who modernised laws on divorce, homosexuality and abortion, and was responsible for some of the country's landmark legislation, including its Charter of Rights and Freedoms.
Justin Trudeau spent much of his childhood at 24 Sussex – the official residence of Canadian prime ministers – and it is hard to pinpoint a time in his life when someone wasn't trying to anoint him as the country's future leader.
FacebookTwitterPinterestTwo-year-old Justin attends the Toronto Star Maple Leaf Indoor Games in the 1970s with his parents, Prime Minister Pierre Trudeau and Margaret Trudeau. Photograph: Boris Spremo/Toronto Star via Getty Images
He was just four months old when in 1972 the then US president Richard Nixon toasted him as "the future prime minister of Canada".
In 2000 he delivered an emotional eulogy at the state funeral of his father, former prime minister Pierre Elliott Trudeau, before an audience that included Fidel Castro and Jimmy Carter.
The address spoke both to the memory of a beloved father, and to the future of the country – and immediately stoked speculation over the younger Trudeau's future political ambitions.
But despite those early years on the periphery of power, he was largely unschooled in the nuts and bolts of statecraft when he launched his own political career.
Alex Lanthier, Trudeau's campaign manager on his successfully runs for election as an MP in Montreal in 2008 and 2011, was surprised when the neophyte politician was stumped by a standard briefing book.
"He said: 'So imagine I've never seen one of these – what do I do with it?" Lanthier said. "People thought because of his upbringing he knew everything about politics."
Lanthier told the newcomer that he would only work with Trudeau if he committed to the grind of old-fashioned, shoe-leather politics.
"He didn't flinch. He said: 'I can do this, I want to connect,'" Lanthier said.
Under Lanthier's watch, Trudeau spent the next year and a half knocking on thousands of doors in central Montreal and attending up to 10 community events each week.
The former prime minister's son soon showed an innate ability to connect with people, though he initially was awkward and shy with crowds, said Lanthier, now a senior adviser with lobbying firm Summa Strategies.
He also started a tradition of greeting constituents the morning after each election – one he carried over after Monday's national win and he appeared at a Montreal metro station to snap selfies with morning commuters.
In 2012, aged 40 and member of parliament, Trudeau won a charity boxing match against a Conservative senator in a hotel ballroom filled with Ottawa politicians – an upset victory that came less than a year after the Liberals went down an historic federal election defeat.
It was just the kind of technical knockout against a political rival that bruised Liberals needed, and one that kickstarted serious buzz around his potential.
After winning the leadership in 2013, Trudeau oversaw an root-and-branch overhaul of the Liberal ground game, developing a platform, rebooting its fundraising ability and recruiting talented candidates after three successive electoral defeats.
The party also consulted with veterans of President Obama's US campaigns on how to use data to identify voters and recruit volunteers.
They credit that army of volunteers for nearly 12 million door knocks and phone calls the party says they managed over the course of the 11-week election campaign.
Monday's vote was largely seen as a referendum on the the nine-year government of the Conservative Stephen Harper, and the Liberals were also boosted by the collapse of their sometimes allies sometimes rivals in the leftwing New Democratic party.
But according to senior Trudeau adviser Robert Asselin, the Liberal victory also owed much to the figure of Trudeau himself, both his personal charisma and his policy platform with an emphasis on retail politics.
Canada's hope
Canadian journalist Jonathan Kay, who worked as an editorial assistant on Trudeau's recent memoir, Common Ground, said comparisons between the Canadian leader and Obama are not inaccurate.
Like Obama, Trudeau's campaign – under the slogans "Hope and Hard Work" and "Real Change" – allowed voters to project whatever they wanted on to the energetic and charismatic young leader and his party.
And like Obama, Kay foresees Trudeau struggling with the disappointment from voters that dogged the president's administration in his first term in office as he faced the challenge of high expectations.
The Liberal leader's achilles heel is that "he is morbidly afraid of disappointing people," said Kay. "It's a dangerous quality in a politician."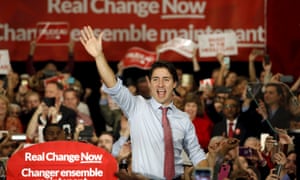 Progressive Canadian voters in particular could be disillusioned by his support for international trade deals and the controversial Alberta-to-Texas Keystone XL pipeline project.
Trudeau's time in opposition also points to a ruthless side – though Asselin described it as "decisive".
Last year, he moved quickly to suspend two Liberal MPs from his caucus when they were accused of sexual misconduct by two female New Democrats.
He also told his party's caucus they would unequivocally be expected to support a woman's right to choose on the issue of abortion, which faces no legal restrictions in Canada.
And his commitment to holding open nominations in all federal ridings has prompted complaints from aspiring Liberal contenders who have alleged backroom manipulations when it comes to selecting party candidates.
Those allegations have resulted in two as-yet unresolved lawsuits from Ottawa lawyer David Bertschi, a former Liberal leadership rival.
Such moves have tempered accusations from Trudeau's detractors – and there are many – who see him as an intellectual lightweight with a razor-thin CV who cruised through life on his good looks and family name.
Trudeau's path into politics was indirect. He initially trained as a teacher; his official Liberal party biography highlights time spent teaching French and maths; detractors say he taught drama and had a stint as a snowboarding instructor.
Certainly, Trudeau has not seemed wary of the limelight: he is happy to mug for cameras and pose with his wife, Sophie Grégoire, a Quebec TV and radio personality with whom he has three young children and who appears to enjoy the attention as much as her husband.
"He told me it's a real problem to create boundaries," said Kay, recalling a story Trudeau told him about taking his wife out to a romantic dinner in Ottawa, only to have it interrupted by a supporter who eventually tried to join them at their table.
"With Trudeau, there's this sense he's so completely and constantly extroverted, it's almost like there are no boundaries," he said.