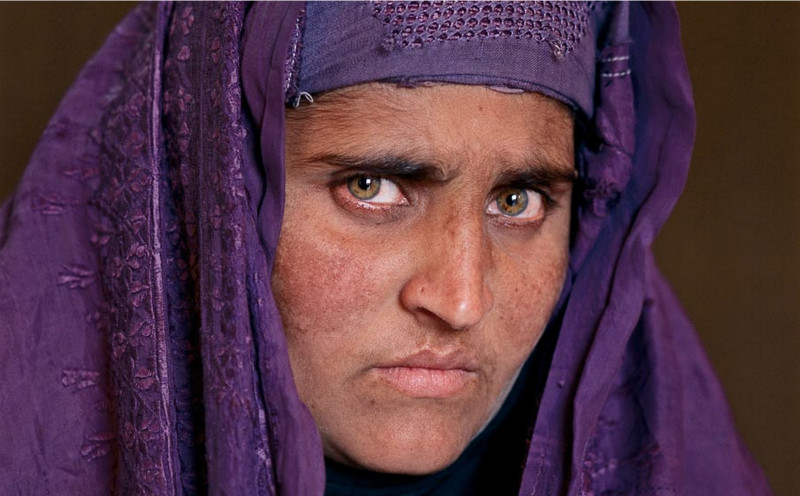 The famous "Afghan girl" immortalised on a 1985 cover of National Geographic magazine, who was arrested by Pakistani authorities on charges of possessing forged identity papers, is likely to be released next week, the Afghan envoy in Islamabad said on Friday.
Omar Zakhilwal, who has been pursuing the case of 46-year-old Sharbat Gula with Pakistani officials, said a court in Peshawar will hear case on November 1, "in which we expect Sharbat Gula to be released".
He said in a post on his official FACEBOOK page that an Afghan legal team had taken up Sharbat Gula's case with legal departments. He also took up her case with Pakistan's foreign policy chief Sartaj Aziz.
"The arrest in Peshawar of Sharbat Gula, one of the world's most recognised and famous and Afghanistan's most beloved image, has deeply saddened all Afghans without exception and has hurt their emotions," Zakhilwal wrote in his post.
The action was a "complete contradiction" of the Pakistan government's efforts to "win hearts and minds" in Afghanistan, he added.
"In light of the implications Sharbat Gula's arrest as well as release can have for Pak-Afghan people-to-people relations and also the legal weaknesses with the case on which she is charged, I requested Mr Sartaj Aziz that the Pakistan federal government issues a directive to release Sharbat Gula immediately. Mr Sartaj Aziz gave me his assurances for which I am grateful," he said.
Zakhilwal also dismissed the charges leveled against Sharbat Gula, saying the Pakistani identity card she had "was not fake and neither was it obtained fraudulently". He added there were more than 500,000 Afghan refugees who had been issued Pakistani IDs and the interior ministry was "very well aware" of this.
He pointed out a deadline set by Pakistan for Afghan refugees to return these ID cards was November 15, which was more than two weeks away.
Read more: Pakistani court sends Sharbat Gula to Central Prison
If Sharbat Gula is released, the Afghan government will facilitate her family's immediate repatriation and support her to resettle in her own country, Zakhilwal said. The envoy said Sharbat Gula's husband and eldest daughter had died and she had sold her house just before her arrest.
Sharbat Gula was arrested with two men, said to be her sons, in Peshawar on Wednesday. An official of Pakistan's National Database and Registration Authority (NADRA) said she could face seven to 14 years in jail and a fine of up to $5,000 if convicted by court of fraud.
In 1984, National Geographic photographer Steve McCurry took the haunting image of Sharbat Gula, then aged about 12, at Nasir Bagh refugee camp on the edge of Peshawar. The photo, which became the most famous cover image in the magazine's history, was likened to Leonardo Da Vinci's Mona Lisa.
After a 17-year search, McCurry tracked Sharbat Gula in 2002 to a remote Afghan village, where she was married to a baker and the mother of three daughters. National Geographic also made a documentary about her life that dubbed her the "Mona Lisa of the Afghan war".
Some three million Afghan refugees live in Pakistan, especially in the northwestern Khyber-Pakhtunkhwa province and the semi-autonomous tribal areas. Many Afghans fled their country after the Soviet invasion in 1979 and some obtained identity papers in a bid to stay on in Pakistan. -ht
THE PASHTUN TIMES